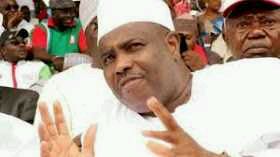 Despite the assurance the Presidency
made in the court through the Attorney-
General that they won't hurt the Speaker
of the House of Reps, Aminu Tambuwal,
in anyway until the case is concluded,
about 1,000 soldiers and policemen on
Thursday morning sealed the entrance of
the National Assembly in Abuja and
physically prevented the Speaker of the
House from entering.
The Speaker of the House, Aminu
Tambuwal arrived the National Assembly
today with a view to preside over the
sitting of the House but fierce looking
troops posted there stopped him at the
gate.
A melee has ensued at the National
Assembly as a result. There is serious
pandemonium…
It would be recalled that Speaker
Tambuwal, President Goodluck Jonathan
and the PDP leadership have been at
serious loggerheads over the Speaker's
decision to decamp to All Progressives
Congress (APC) a few weeks ago.
Immediately he joined the APC his
security guards were withdrawn on the
orders of the President.
I just wonder why the government is
resorting to unconstitutional tactics in a
constitutional matter.