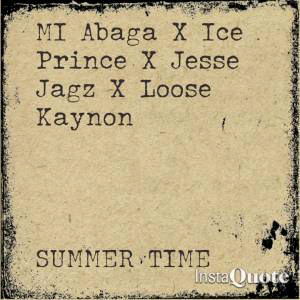 "SummerTime" is what you get when rap's finest bad men come together to hatch it out on a set of musical bars.
This new release jump starts the anticipation for a Choc Boys reunion as the track features Choc City and Loopy Music executive, M.I. Abaga; former label mate, Jesse Jagz; new label owner,Ice Prince; and Loose Kaynon.
Looks like these guys didn't come out to play. Cop a download right away!
DOWNLOAD AND LISTEN TO AUDIO: Music | M.I. Abaga, Jesse Jagz, Ice Prince, Loose Kaynon – "Summer Time MP3".
DOWNLOAD M.I. Abaga, Jesse Jagz, Ice Prince, Loose Kaynon – "Summer Time"