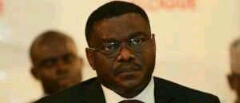 A female doctor, who was on admissionin the same hospital where the late Port Harcourt doctor was admitted, has tested positive to Ebola and is currently being treated in the isolation ward in River State.
The case brings the number of confirmed Ebola cases in the state to three including that of the late medical doctor and the ECOWAS staff who brought the virus to the state.
During a meeting of the National Emergency Council on Ebola out-break in Nigeria on Monday, the Minister of Health, Professor Onyebuchi Chukwu, said that a few more cases of the Ebola Virus Disease were expected in Rivers State.
He told the gathering of states health commissioners that they should continue to make more efforts to ensure that the disease was contained.
At least 1,500 deaths have been reported since the outbreak of the Ebola Virus Disease early this year.Sixteen Ebola cases have so far been reported in Nigeria since a Liberian-American man, Patrick Sawyer, brought the virus to Lagos State in south-west Nigeria in July.